Document Scanning Services in Nashville
Nashville Document Scanning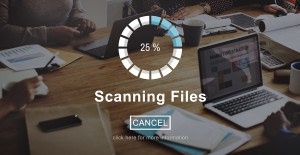 At Document Scanning Services in Nashville, we acknowledge the unique nature of every project, recognizing that each comes with its own set of requirements. Our dedicated team takes the time to fully comprehend your project specifications, ensuring a personalized approach to connect you with the most fitting service provider.
In Nashville, our document scanning services offer a seamless and efficient solution for businesses seeking to digitize their paper documents. Employing high-speed scanners, these services adeptly convert substantial volumes of paper documents into easily accessible and searchable digital files. This transition not only leads to significant savings on storage costs but also enhances organizational efficiency and overall productivity.
Our comprehensive range of services covers document scanning, microfiche or microfilm conversion, and large-format scanning, providing tailored solutions to meet your specific needs.
Document Scanning Services in Nashville
In addition to traditional scanning services, we offer several other options to help you manage your documents better, including:
Finding the right document management system that fits your business model
Indexing and uploading files into a Document Management System (DMS)
Helping you convert to a paperless office
Optical character recognition (OCR) to make your files editable
Day-forward scanning, where you scan all documents starting after a certain point
Traditional Documents
We understand that paper comes in various forms, and we have the expertise to scan any type you require. Whether it's credit card receipts or full-size architectural drawings, no job is too big or too small for us. Our services encompass optical character recognition (OCR), redaction, indexing, and more, all tailored to your unique needs.
Digitizing Micrographics: Microfilm Scanning and Microfiche Scanning
When it comes to converting microfilm into digital formats, expert care and handling are crucial. Our experienced staff has managed hundreds of millions of microfilm images, ensuring exceptional quality. High-speed film scanning equipment efficiently converts 16mm and 35mm film, with the flexibility to handle various film reduction ratios. Our local scanners are equipped with advanced image enhancement software to deliver the highest-quality electronic images. We evaluate image locations before microfiche scanning, ensuring a streamlined and efficient process.
Large Format Documents
Precision and expertise are essential when it comes to digitizing large-format documents. Our experienced team excels in managing and digitizing various large-format materials, ensuring top-notch quality. With high-speed scanning equipment, we efficiently convert architectural blueprints, maps, and posters, offering flexibility to handle different sizes. Our local scanning experts use advanced image enhancement software to deliver high-quality electronic images, ensuring a streamlined and efficient process.
Engineering Drawing Scanning
Our scanning and conversion services for architectural/engineering drawings include blueprints, mylars, and drawings spanning "A" to "J" sizes. Although most clients request TIFF or Adobe PDF images, output is available in a variety of formats for your convenience, including DWG, CALS and JEDMICS.
Benefits of Document Scanning in Nashville
Security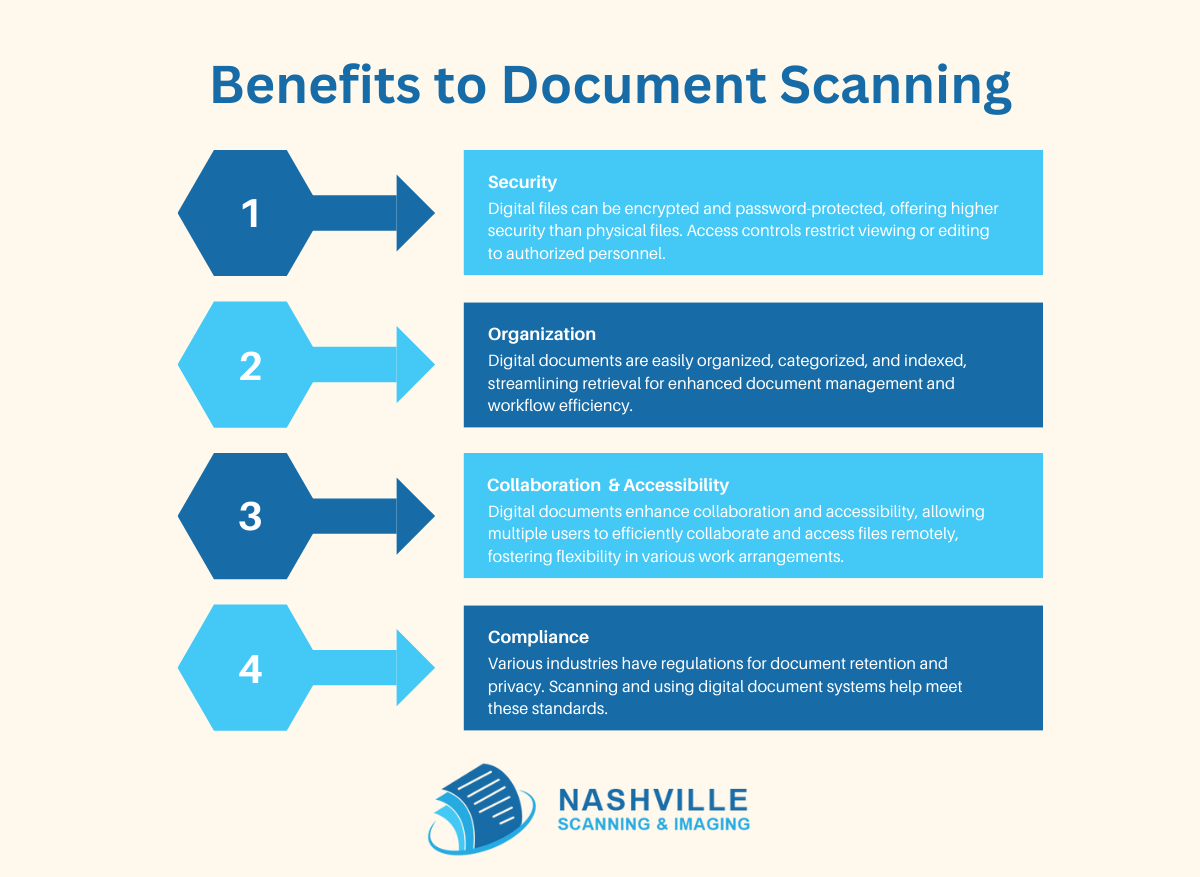 Digital files offer heightened security measures compared to physical documents. Encryption and password protection provide an additional layer of defense against unauthorized access. Access controls further restrict viewing or editing permissions, ensuring that only authorized personnel can interact with sensitive information.
Organization
The transition to digital documents facilitates a systematic and efficient organization. Digital files can be easily categorized, indexed, and organized, simplifying the retrieval process. This streamlined organization contributes to enhanced document management and overall workflow efficiency within your organization.
Collaboration & Accessibility
Digital documents enhance collaboration and accessibility across various work environments. Multiple users can efficiently collaborate on the same document, fostering teamwork and productivity. Additionally, the accessibility of digital files enables remote access, providing flexibility for teams working in diverse locations and promoting seamless collaboration.
Compliance
In various industries, compliance with document retention and privacy regulations is paramount. Scanning and utilizing digital document systems assist in meeting these standards. Digital document management ensures that businesses can adhere to industry-specific regulations, reducing the risk of compliance issues and associated penalties.
Get Free Quotes on Document Scanning Services from Nashville Scanning and Imaging
Nashville Scanning and Imaging is your source for secure document scanning services anywhere in Tennessee. We're the experts in document scanning and imaging, including OCR and indexing services. We're ready to handle your sensitive records to ensure your documents are protected from conversion to storage and/or disposal.
To get free, no-obligation quotes today, fill out the form or give us a call at (615) 290-5346. Within minutes of receiving your request, we'll be in contact to help you with your project.
Frequently Asked Questions
What is document scanning?

Document scanning is the process of converting physical documents into digital formats. It involves using specialized equipment to create digital images or text files from paper documents.

Why should I consider document scanning for my business?

Document scanning offers numerous benefits, including improved organization, easier document retrieval, enhanced security, and space savings. It facilitates efficient information sharing and collaboration within your organization.

What types of documents can be scanned?

Virtually any type of paper document can be scanned, including contracts, invoices, receipts, employee records, medical records, architectural drawings, and more.

How much does document scanning cost?

Professional document scanning services typically have an average cost of 7 to 12 cents per page scanned. The total expenditure for your document digitization project will fluctuate based on various factors, including the quantity of documents to be scanned, the level of preparatory work required, and the location of the service.